The typical English cottage garden filled with pretty, delicate, colourful flowers is often the dream of many gardeners. However, this kind of garden is high maintenance, has high watering demands and it means that you will have an empty garden with no structure during the winter. However, a happy balance between a pretty colourful garden and a robust background planting structure can be easily achieved, resulting in a garden that will have a mature look and feel to it.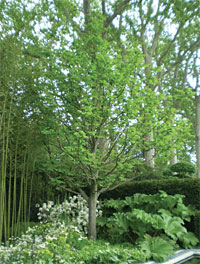 Structural planting need not consist entirely of evergreens as the right combination of evergreen and perennial shrubs can create interest throughout the year. In a typical suburban garden the structural plants can be used to disguise
the boundaries of the garden and create the illusion that the garden is larger than it is, as the viewer does not know where the boundaries really are behind the shrubs.
In larger spaces, structural plants can be used to demarcate the boundaries of different rooms in the garden.
To create that beautiful colourful garden, flowers can be planted in front and around the structural shrubs. The solid green mass of the background shrubs creates an ideal backdrop to show off the vibrant colours of the flowers in front of it.
If you combine the shrubs and perennial flowers in the right way, you can time the flowering of the garden in such a way that you have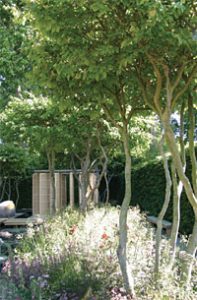 flowers appearing throughout the year .The flowering season can start with winter flowers, spring bulbs , then perennials as well as flowers from shrubs. If perennials are used then the garden becomes low maintenance and low costing as the plants do not need to be replaced every year. As an added bonus, if you have evergreen shrubs then you will not be staring at an ugly bare wall in the winter as the background plants are green all year round.
Next time you have a look at your garden, don't only think about the hard landscape structures such as the paths, patios and pergolas but also about how clever plant design can add magnificent beauty and charm to your garden. A garden designer will be able to help
you create a planting plan for year round colour and structure.