Helping you design your dream garden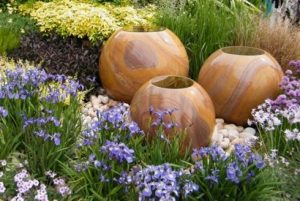 Ornamental wooden bowls filled with water
The garden can often be a space  where home owners don't know where to start with making the space functional and attractive. Unlike the inside of the house which is static, the outside space changes throughout the year and needs regular garden maintenance.
We help you to create a garden to meet your  specific needs .These may include accommodating children, pets, low maintenance planting, allergies and easy to care for hard landscape materials for large or small gardens.All styles of design are accommodated from traditional to contemporary.
Different design packages are available to suit your  size of  garden and budget  e.g. the full design service or advisory/consultancy  service.
Each client receives a detailed initial consultation in order for us to understand the the space and what is required.  The full design service offers a 3D scaled drawing using Vectorworks software  to help  the client to visualise the end product.
A plant design drawn to scale takes colour,style,soil conditions,aspect,budget and maintenance needs into consideration.
A bespoke maintenance schedule can also be produced to help you maintain the design.
We work closely with reputable landscapers and other garden related professionals to build the garden.
A list is available of recommended landscapers,gardeners, lighting specialists, irrigations specialists and suppliers of materials for patios, driveways,fences,ponds,artificial lawn etc.